Chhea Leak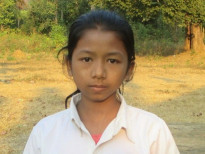 Chha Leak  is a 15 year-old ethnic Phnong girl who entered the Girls Be Ambitious program in 2011. At the time, she enrolled in the third grade at the Gloria and Henry Jarecki Special Skill School at Norg Leak Village, Ratanakiri Province.  She is now in the seventh grade.
Leak is the first child in the family of 5 members. Her parents are very poor farmers and they own five hectares of farming land but the land is very poor. They grow cashew nuts, rice, and mixed vegetables and the yearly harvest is not enough to support the family. For additional income, they need to work as days laborers for their neighbors. They can get very little money from this work. So, sometime they have to borrow money from others and need to pay interest. Living under the difficult conditions, Leak decided to cut most classes and found job for getting more money for the family. She had to look after her younger siblings, do chores, and collect the firewood.
After talking with the staff from GBA program, Leak's family agreed to send her back to school. She maintains high attendance and has many friends who are among her classmates.
Updated: January 2018