Vai Ky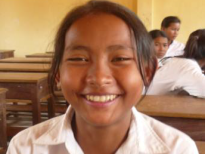 Vai Ky is a 13-years-old student in 7th grade at The Kimino Yume Mezaseba Kanau School in Romduol village,Varin commune, Varin District, Siem Reap province.
Ky has three siblings, two sisters and one brother, and she is second child in family. Her father has
abandoned them, so they depend on her mother. Her mother is farmer and seasonal worker, and her income is $37.5-50 per month. Ky has to respond to do housework and to take care of her younger siblings because her mother has to work outside whole day.
Date Posted: April, 2016