Yon Sreymey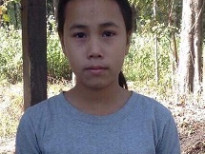 Yon Sreymey is 15 years old student in 9th grade at The IROHA School which is located in O Svay village, O Svay commune, Thalaborivath district, and Stung Treng province.
Sreymey was born in a poor family and she has gotten five siblings including her. She is the fourth born in the family. They have owned one hectare of farmland for the rice transplantation and every year her parents could gather from 45 to 50 sacks of rice's production per year. For one sack of rice contained 50kgs to 60kgs.
Sreymey expressed that amount 30 sacks of rice were sold out to the merchantmen because her parents to have to payback to the fertilizers shop and their daily consumption as well. Even though, they earned from selling rice but it is not enough to cover their family living hood like cloths, school supplies and school uniforms. Therefore, she sometimes asked permission from school for a few days in order to find little supplementary income with her parents.
For her future goal, she wishes to be a specialized mathematics, chemistry and Khmer literature teacher because she prefers to teach these subjects to the kids of the next generation.
Date Posted: December 2017