Khorn Sokheng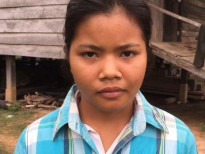 Khorn Sokheng is an 18 years old student in 10th grade at The ASIJ School which is located in Chup Krom village, Svay Leu commune, Svay Leu district, and Siem Reap province.
Sokheng has gotten seven siblings including her. She is a third born in the family. Her parents are farmers. They have owned two hectares of farmland for transplanting rice. According to the current living condition of her family they have produced rice yearly and they benefited over 3 tons to 4 tons of rice's output per year. After the rice harvest, her parents had sold out for 2 tons of rice and got $375 for a compensation of fertilizers that they have bought from shop owner.
Although her parents received for $375 from selling rice, this amount was insufficient to hold on for their daily needs. Therefore, her father has had to seek another job to work as the construction worker and he have been paid $5 per day in order to patch up on food but it was not regularly income. Sometimes, Sokheng hasn't attended the school regularly because her parents asked her to take care of the cows at the rice field and do the chore at home as well.
Date Posted: December 2017