Dy Den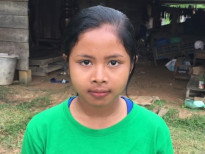 Dy Den is a 15 years old student in 8th grade at The ASIJ School which is located in Chup Krom village, Svay Leu commune, Svay Leu district, and Siem Reap province.
Dy Den has gotten four siblings including her. She is a second born in the poor family. Unfortunately her mother had gone and left her, her siblings and father living sadly. Presently, they have owned 50 square meters of farmland for producing rice but it was inadequate to support the family.
Dy Den said regarding on their yearly rice production, they have produced rice to benefit about 1000kgs of rice per year. After harvesting her parents had sold 500kgs of rice and approximately got nearly $100 in order to work out for the daily needs.
Meanwhile, the income that her father got from selling rice couldn't hold out for daily needs, therefore, her father has had to find the work as the construction worker and got $5. Dy Den hasn't attended the school punctually because of her parents asked her to take care her younger sister, younger brother and cooked food for them.
Date Posted: December  2017