Chem Sokhum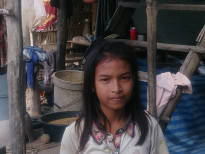 Sukum is a 13 years old student in Grade 4 at The Janie's School #524 in Snam Preah commune, Bakan district, Pursat province.
There are eight members in her family. She has four sisters and one brother. Her parents are farmers. They went work at Khmer – Thai border with some of her brothers and sisters. They left the village about two years ago. They didn't contact their daughter and transfer any money for her to spend for daily living. So now, Sukum lives with her grandparents, aunt, uncle and their kids. Her parents left village, because they sold all farm land and their house.
Every day, Sukum went to bed late in the evening and wake up early at 4 o'clock in the morning. She has to help her grandmother to make snacks for selling at the market and school. Her grandfather is an old man who usually sick and lay on the bed. He didn't make any income for the family. So, only her grandmother who can make income about R10000 ($2,5) a day. Every expenses of her grandchild depended on her. In Sukum's free time, she always do all kinds of housework, growing vegetables, finding fishes in the nearby village and taking care of her cows.
Date Posted: February, 2017