Konthear Sreyneang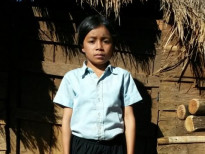 Konthear Sreyneang is a 9-year-old student in 2nd grade at The Ascham School community, in Putang village, Romnea commune, Senmonorom district, Mondulkiri province.
Konthear Sreyneang has two sisters and three brothers. She is the third child in the family.  Nowadays, her parents work at the field where growing bananas, cassavas (Annual income is $500). Besides working at the bananas, cassavas field, her parents are hired to pick pepper which earns 20.000 riel or $5 a day. Her father is also working at the rice field. However, the income isn't regular and it isn't enough to support the family.
Konthear Sreyneang helps her mother to do house works when her mother was away.
Date Posted: December 2017