Ye Sopheap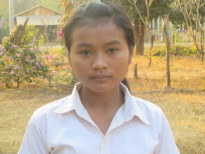 Ye Sopheap is a 13 year-old student who entered the Girls Be Ambitious program in 2012. At the time, she enrolled in the fourth grade at the Gloria and Henry Jarecki Special Skills School located in Norg Leak village, O Chum commune in Ratanakiri province. She is now in the seventh grade.
Sopheap is the first child in a family of four. Her parents are poor farmers, who own only half a hectare of land on which they grow some rice and cashew nut trees, along with some vegetables. The harvest from this small plot is not enough to sustain the family throughout the year and they have to work as farm laborers in the village. With this work they only earn about $2.50 per day per person, which is hardly enough to feed the family. Due to the dire poverty the family can only afford two meals per day.
Living in such difficult conditions, Sopheap has to help her family make ends meet. She often has to stay home to work around the house and take care of her younger siblings. Because of this situation she is often absent from school.
Since she was selected in GBA program, Sreyly has a chance to attend school regularly. She is happy to go back to school.  She maintains perfect school attendance.
Updated May, 2015