Yean Liya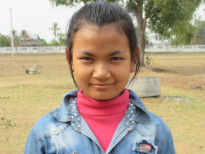 Yean Liya is a 17 year-old student who entered the Girls Be Ambitious program in 2011. At the time, she enrolled in the fourth grade at the David and Deborah Roberts School in Ta Ream village, Tbeng Commune in Kampong Thom Province. Liya is now in grade 9 and trying to study hard to pass her exam in order that she can continue to upper secondary school.
Liya has three brothers and one sister. Her father passed away many years ago and so Liya's mother is the family's only breadwinner. Unfortunately, because of the poverty in the family there is not enough food to eat or money to support all the children to go to school regularly. In order to improve the plight of her family, Liya's mother has gone to work in Malaysia as a housemaid, a job that will keep her abroad for two years.
Liya and her three brothers are now living with their grandparents, who are farmers with 10 children of their own. They have about one hectare of farmland, which produces about 960 kg of rice per year. However, the harvest is not enough to support the family throughout the year. Therefore, her grandmother and some of the children catch fish, which they sell on the village market. Despite their efforts, these activities are still not enough to feed the whole family. Liya has often missed her class because she had to help her grandmother with work around the house.
With the help of the GBA program, she is now able to attend her class again regularly and earn good grades.
Updated: February, 2016