Yean Liya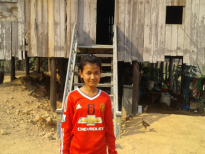 Yean Liya is a 19 years-old student who entered the Girls Be Ambitious program in 2011. At the time, she enrolled in the fourth grade at the David and Deborah Roberts School in Ta Ream village, Tbeng Commune in Kampong Thom Province. Liya is now in grade 12.
Liya has four siblings, but now one of her second brother died, so there are in total two brother and her. Her father passed away many years ago and Liya's mother is the only family's breadwinner. Her mother used to work in Malaysia as housemaid. This job kept her abroad for two years, but now she came back and she works as a rice farmer on her own land. Her mother was married again with another man for one year ago. So now, Liya and her brothers are living with her mother and her step-father. They have about one hectare of farmland where they can gather about 1,000 kg of rice per year. However, the income is not enough to support the family throughout the year. Therefore, her mother sells Cambodian spaghetti at small market in her village, whereas her stepfather does not have work to do and stay home to help something at house. When Liya is free, she usually helps to do housework around the house.
While she lived with her grandmother, she always has a lot of work to do and she often miss her class. However, since she joint in GBA program and her mother came back from Malaysia, she is able to attend her class regularly.
Updated: May, 2018