The Cambodia Rural School Project
The Credit Suisse-First Boston
School
---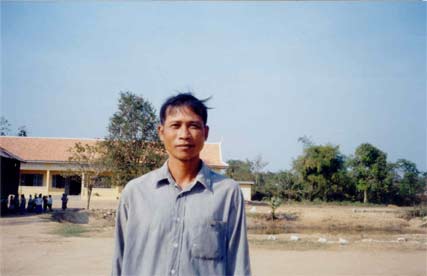 Kom Som Oeun is the 42-year-old deputy director of the Credit Suisse-First Boston School. Now he is teaching the 4th grade with 48 students in his class. He is married and has two children.
Left the teacher school in 1984. I first sent to work at a primary school in the same district, but different commune that I am working in now. In 1989, I was switched to the present school.
At school, I have difficulty teaching children in applied science because the school lacks teaching materials to demonstrate, or show the students while teaching. On the hand, there are only two hours of applied science a week, I think it is not enough for teaching students.
Last year, I taught the same 4th grade with 46 students, and at the end of the academic year, 41 of them passed the exam and entered into the 5th grade, while 5 others dropped.