The Cambodia Rural School Project
The Meyers Family School
---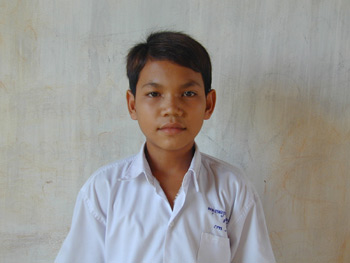 Po Mich is a 14-year-old 8th grade student at the Meyers Family School . He ranks number 2 among his 37 classmates. Mich has 3 siblings; he alone attends at the new school. His parents are farmers. They have a small shop at home to sell groceries. His home is about one kilometer away from the school and he rides a bicycle for ten minutes to school every day.
"In the school's curriculum, I like Khmer language because I like to read, write and analyze the grammatical phrases," he said.
"I want to be a medical doctor when I grow up because I wish to work in a hospital in Siem Reap province. When I was a child and got sick I was sent to this hospital. Now I dream of being a doctor and want to help sick children there," he said.