The Cambodia Rural School Project
The Phom O KEC School
---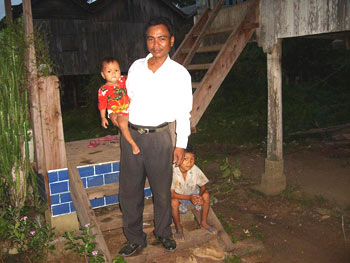 Chem Nhep is the 39-year-old director of the Phom O KEC School. He has been a teacher for 17 years in another school and became school principal in this school 7 years ago. He used to teach 1st grade to 6th grade. He doesn't teach at the moment.
"I received training at the Stung Treng Pedagogy School for 3 year before I became a teacher. I decided to become a teacher because in that time our country lacked teachers," he said.
"I like teaching all the subjects because in the primary school children need to know all subjects. As I know, the student likes to learn Khmer and Math, because the teacher concentrates on teaching these two subjects more than any other subject. I know the students also want to learn English and Computer lessons, because these subjects are new for them," Chem Nhep said.