The Cambodia Rural School Project
The Phom O KEC School
---
Opening Ceremony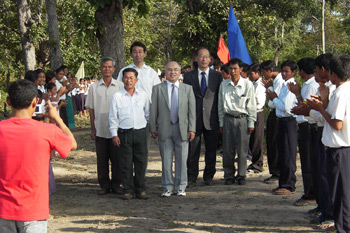 A three-member delegation of the school's donor accompanied by the local authorities walk to a dedication ceremony held on 29th November 2005. Photo on the first row from left: Deputy District Chief Mr Kiet Kim Tol and school donor Toshio Takahashi .

Toshio Takahashi took the floor, held micro-phone and gave a speech during the official opening ceremony of the school that his KEC company funded.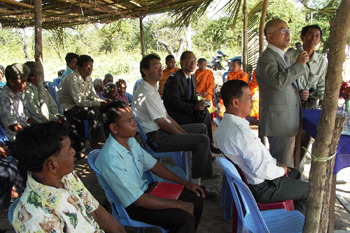 School donor Toshio Takahashi holds a pair of scissors to cut the red ribbon to inaugurate the new school building.
The school donor demonstrates using the LCD projector in the classroom to his school's children.

Mr Yuki Umezawa gives a package of school supplies to each child during the dedication ceremony.