The Cambodia Rural School Project
The Region Rejser School No. 1
---
Opening Ceremony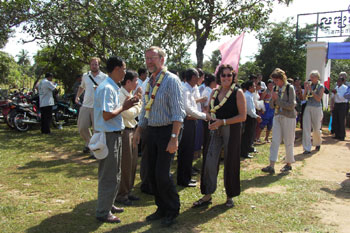 School donor Mr. Hans Holm, director of the Denmark-based Region Rejser Travel Agency, with a garland of flower around his neck walks to where children and villagers are waiting to hold the opening ceremony of the new school building. He is followed by Mrs. Wivi Hellsten, one of the 18 members of the group who attend the ceremony.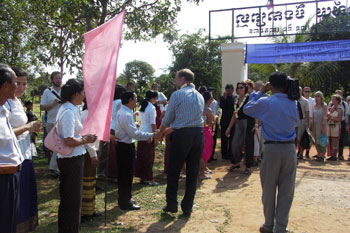 The school donor shakes hands with Prey Nop District Chief Mr. Ban Sarom who greets the school donors at the entrance of the new school.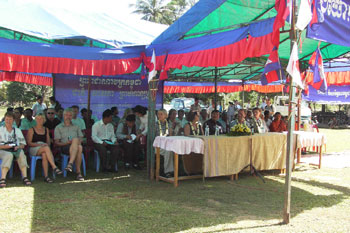 The school dedication ceremony held on October 29, 2005 was presided over by Sihanoukville Deputy Governor H. E. Sboung Sarath. He is sitting on the platform, third from the left, beside Hans Holm.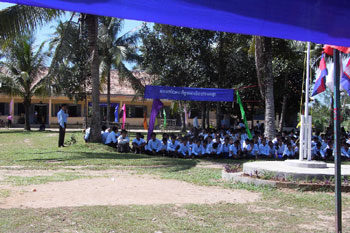 Children in school uniform at the Region Rejser School No. 1 sit on the ground of the school yard listening to speeches delivered by the donor and others dignitaries during the ceremony.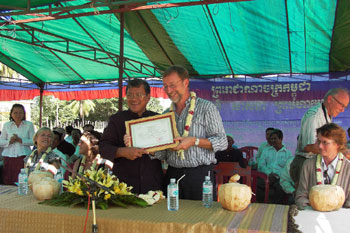 Deputy Governor Sboung Sarath presents a letter of thanks to Hans Holm for his efforts in helping to build the new school building for Cambodian children.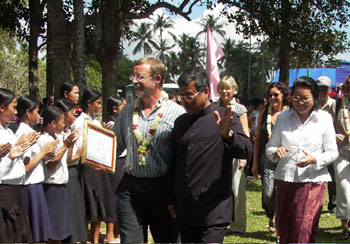 After the ceremony, the donors and local dignitaries walk to the new building as children line both side of the route. Photo: The school donor Hans Holm is located on the left and the deputy governor on the right.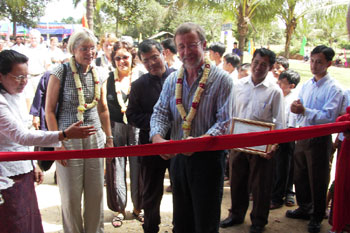 School donor Hans Holm cuts a red ribbon to inaugurate the new school building. Photo – From the left to the right: Municipal Department of Education Chief Mrs. Soeur Tepy; Elisabeth Nissen; Wivi Hellsten; Deputy Governor Sbong Sarath; Hans Holm; and District Chief Mr. Ban Sarom.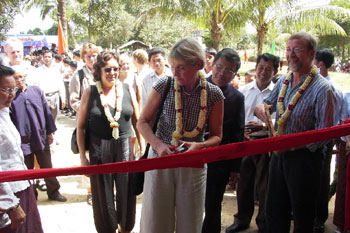 Elisabeth Nissen cuts a piece of ribbon to inauguate the new building as others look on.

After cutting the red ribbon, the group enters a classroom to distribute school supplies to the children. Photo: Hans Holm gives a packet of school supplies to children.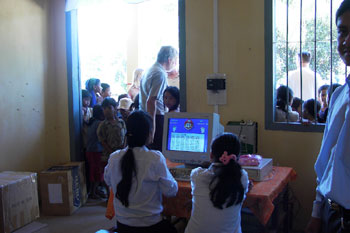 Two school girls learn to type from a typing program on a computer powered by energy from solar panels located on the roof of the school building. The Denmark-based Region Rejser Travel Agency donated a set of three-piece solar panels for computer operations.