The Cambodia Rural School Project
The Yokkaichi School
---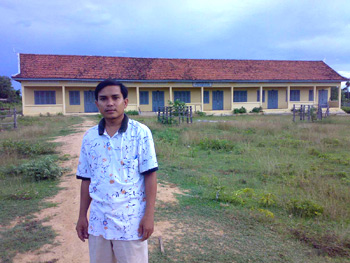 Mr. Nun Bunneth is a 32-year-old school principal at The Yokkaichi School. He has been teaching 10th, 11th and 12th grade for 7 years and he became a school principal two years ago. His house is about three kilometers from the school and he comes to school on his motorcycle.
"I followed training at Pedagogy University School in Phnom Penh for 5 years, before I became a teacher. I wanted to be a teacher because at that time I passed the university's exam with a major in Khmer," he said. "I like teaching Khmer literature because Khmer is the official language for Cambodian people in the Kingdom of Cambodia," he added.
"I became a school principal because there was no school principal at this new school, and then the provincial department of education appointed me as the new school principal," he said.