The Cambodia Rural School Project
The Yokkaichi School
---
Opening Ceremony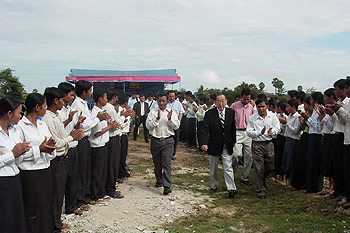 Mr. Iwana Hideki, donor of the Yokkaichi School, accompanied by school director (right) Mr. Kan Boneth and Deputy District Chief Mr. San Kim Hong (left), walks to the school dedication ceremony held on 5th November 2005.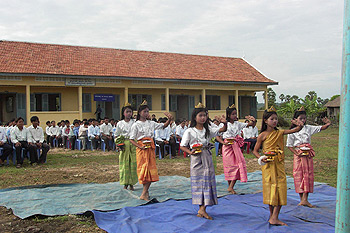 Six school children performed a traditional dance of welcome for the 10-member school donor delegation at the ceremony.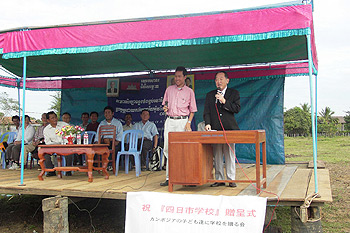 School donor Mr. Iwana Hideki (speaking into the microphone) took the floor and gave a speech during the dedication ceremony.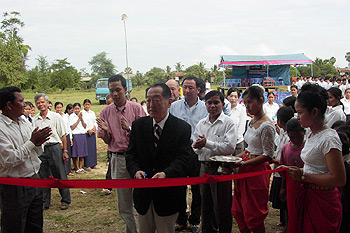 School donor Mr. Iwana Hideki cut a red ribbon to inaugurate the school building, that he funded, while other members of the delegation look on.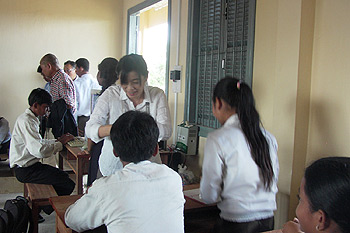 The school donors brought school supplies from Japan and distributed to the children in each class.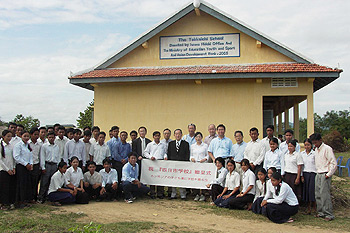 After visiting each classroom, the group of donors posed for a souvenir picture with school children and teachers.