Deourn Sreynin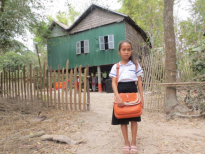 Deourn Sreynin is 10 years old, she learns in 4th grade at the Ford Harrison School, located in Tras village, Cheykompok commune, Preah Sdach district, Prey Veng province.
There are four members in the family. She is the first child and she has two sisters. Her father's name is Mao Deourn and he is 40 years old. Her mother's name is Sonn Sophea and she is 35 years old. She is a garment factory worker, her salary is about 150$ to 200$ a month. However, in the last 5 months, she gave newborn baby and she cannot work to get salary any more. On the other hand, her mother was divorced with her husband while she had pregnant. The family's situation is very poor. The livings of these members, including food and supply are supporting by her aunt and uncles from Phnom Penh but it is not enough. They live in her grandmother's house. Her family did not have a house to stay. Out of the daily life, her mother always think to help her children to go to school and get better education. At the house, Sreynin runs all works while her mother on giving a birth and helps to teach her younger sister at night before going to bed. She goes to school by walk.
In the future, she wants to be a teacher. She wants to be a local teacher at her village. This job can help her mother to support the family. She hopes her career will help many people to have education.
Date posted: March, 2018