Mao Sreynet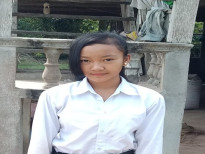 Mao Sreynet is 15 years old, student in 9th grades at the Svay Chek Secondary School in Anlong Spean village Svay Chek Commune Romdoul district Svay Rieng province.
Sreynet has 1 sister and 1 brother. Her father is died she live with her mother. Her Mother is a farmer who owns 2,000 m2 of farmland for transplanting rice and their farmland are located furthest from the water resource, which increasingly difficult to get water to supply their farmland so their farmland depends on natural raining only.
According to the about reasons so her mother can gather 6 sacks of rice production that is not even enough to eat during a year. After gathering rice is completely finished her mother has a small business at home and she is a seller, she can get profit about 4,000 riels per day. And her mother also has illness, so some of income is used to spend for medicine to cure her.
Sreynet likes reading book, does exercise, does housework and look after her sister. She helps to teach her sister at home.
In the future, she wants to be a good teacher because she loves teaching young children and she wants to earn more money to support her family.
November 2018