Bon Vicheka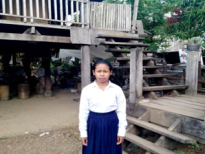 Bon Vicheka is 13 years old, a student in the 8th grade at The House of Joy and Happiness School in Thkeng village, Rohas commune, Rovieng district, Preah Vihear province.
Bon Vicheka is the eldest child in her family and has one younger sister. Her parents are farmers, raising two cows and growing rice on their 20m×60m housing land. Her family condition is depending on the rice yield of 1 ton per year to support their family.  They do not sell this rice, but keeps it for supporting family during a year. As they are unable to produce more rice yield to sell, her family does not have any other extra income, which is highly affected to her study situation. Vickeka is not only busy with the housework and other work to help family to survive, but her family does not have way to support her at school, even she is very good and hardworking student. Her poor situation kept her almost of times from school.
In the future, she wants to be a teacher. She wants to share her knowledge and teach the children in her community.  Most importantly, she would like to be able to support her family and give them an opportunity to live in a better life.
Updated: August 2018