Chann Davann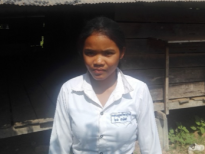 Chann Davann is 15-years-old, grade 7 at The Kimino Yume Mezaseba Kanau School in Romduol village,Varin commune, Varin District, Siem Reap province.
Davann has two sisters and one brother; she is the eldest of her siblings.  Both of Davann's parents have passed away, so she lives with her grandparent in Varin village, Varin commune, Varin district, Siem Reap province. Davann's grandparent are rice farmers, so Davann regularly has to stay home to help her grandparents with housework and in the rice field, as they are getting older and weaker.
Davann enjoys school and hopes to become a teacher in her future.
Updated: May, 2018