Chip Ratana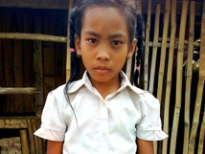 Chip Ratana is 10 years old, grade 3 at Vasaskolan School located in Angbaksey village, CheangToung commune, Tram Kak district, Takeo province.
Ratana has 3 siblings, one brother, two sisters.  She is the first child in the family. There are 6 members in her family, a grandmother, one brother, two sisters and her parents. Her father's name: Chate Som Art, 39 years old and her mother's name: Nak Kunthear, 40 years old, they are farmers who own 20 Acres of farmland that they can get about 10 baskets of rice product a year. Her father has an extra job as a sugar palm producer in order to earn some money for the family. Her family earns around 85$ per month.  She always helps her parents work such as cooking, raising animals, and taking care her small brother and sister.
In the future, she wants to be a tailor. She said that being a tailor could easily make money so that she can help her family to have a better life.
Date posted: May, 2018