Chranh Nork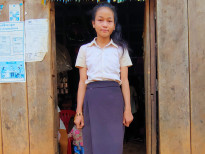 Chranh Nork is a 14-year-old student in 6th grade at The Ascham School which is in the Putang village, Romnear commune, Senmonorom district, and Mondulkiri province.
She is the fifth child in her family. Her parents are both farmers and have one hectare of farmland to transplant rice and cashews and for raising chickens and four pigs. Her parents can gather about 120 kilograms of rice and about 60 kilograms of cashews per year, but this is not enough to support the family for a whole year her parents must sell some of the rice and vegetables to pay back the shop owners for the fertilizers. Due to her parents' low income from selling rice and vegetables, they are unable to afford basic needs such as clothes, uniforms, school supplies, etc. Chranh Nork promises that with the support of $10 every month, she will try her best to study hard and will use the money to patch up her studies.
In the future, she wants to become a guide because there are a lot of foreign tourists in the village visiting almost every day and because she wants to earn the money to support her family.
Updated: July 2019