Dearm Ratha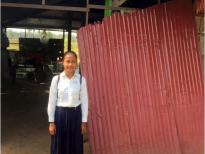 Ratha is 15 years old the student in 8th grade at The Nozomi School # 348 donated by David Sneider and Naomi Pollock Family. Located: Khchass Village, Khchass Commune, Saut Nikum District and Siem Reap Province.
Ratha is the last child in the family, with two older brothers. Her father passed away since she was young. Now she lives with old mother that always sick. Her mother is 52 years old. In her family before have own farmland but after her father got strong sickness so her mother sold all the land to get money to take care of her father. Now her family has no land to transplanting rice and her mother can't work anymore just stay at home plant some vegetables and raising some chickens for food only. Ratha is a student who pays attention to learn, try hard to study and she gets good rank. After school, she goes home to help her mother with house work. In her free time, she likes to read the books and review the lessons from school and help mother to cook meal and take care of chickens and vegetables for her family.
Ratha wants to be a good teacher when she grows up because she loves teaching young children in her village and would loves to earn money to support her mother.
Date posted: December, 2018