Don Kanha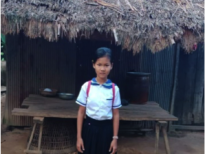 Don Kanha is a 12-year-old student in 6th Grade at The Chres School in Phum Chres Village, Boeng Sala khang Tbong Commune, Kampong Trach District, Kampot Province.
There are three people in the family. Don Kanha has two siblings. She has a younger brother and Kanha in the first child in her family. Her parents divorced with each other since she was young and they kept her to her aunt for takes care Kanha. Her father's name Meas Touch, 38 year-old is a construction worker. He could earn around $150 per month, but he never spent to Kanha. Her mother's name Pea Touch, 36 year-old is a factory worker. She could earn around $160 per month and she always sent a little money to Kanha for support anything one month about 20$, but not enough for Kanha, because her aunt is poor who a controller on her.
Her parents didn't have owned their farmland, but her aunt had owned half hectare, which can produce between 1,500kg to 2,000 kg of rice a year. After harvesting rice her aunt sold out for 300kg and got 110$ to support a whole family in per year. Her aunt, sometimes, work as a farmer for the villagers around the villages to get some wage around $4.00 per day during the rice season for family to support Kanha to go to school. Although, her aunt's monthly income could not support the family well but she felt happily to send her niece to school and encouraged Kanha to get success. Her family thanked to donor who was kindhearted to assist Kanha very much.
Kanha is a good student in the class and studies very hard every time. Kanha has to walk to school and sometimes she brings her with her friend and back every day because her aunt could not afford a bike for her. After school she always takes care her young brother and helps housework as well. She also takes time to study more at home. She determines to finish high school and wants to be a teacher so that she can teach the people in the village and around the world. She wants her family to live a better life in the future as well.
Date posted: January, 2018