Em Socheng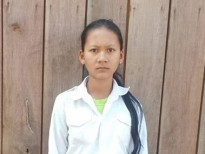 Em Socheng is 14 years old, a student grade 6 at Sophie A. KRASOWSKI SCHOOL witch located in Plor village, Borkham commune, Oyadav district, Ratanakiri province.
She has 3 siblings. She is the second child in her family. She is an orphan since she was young; her father passed away in 2012 while working daily labor job in Thailand. Her family has 1 hectare farmland where they could grow some cashew trees. She said that, every day her mother is working as a labor services day by day. She can earn a little bit of income approx. between 15,000 to 20,000 riels for a daily family needs and pay for other debts.
After school Socheng has to go to farm to help her mother work to make more income.
In the future, she wishes to be a tour guide because she could develop her English very day with foreign tourists and also she has a chance to go everywhere, especially she wishes to visit western country.
Date post: February, 2019