Hai Sony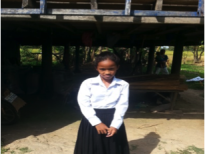 Hai Sony is 11 years old, and she is a student in sixth grade at The Chres School in Phum Chres Village, Boeng Sala khang Tbong Commune, Kampong Trach District, Kampot Province.
Sony has gotten an oldest sister. She's three members in her family and she's the first child. Her father is a construction worker at Kampong Som that three to four months just travelled home one time, and her mother is a farmer and housework. Her parents have owned one hectare of farmland for growing rice. Sony narrated that their farmlands were located furthest from the water resource, which increasingly difficult to get water to supply their rice field which depends on natural rain only.
According to the above reasons so her mother could gather 15 sacks of rice's production and amount one sack of rice was about 55Kgs to 65Kgs. Sony's mother revealed that after rice's fruit gathering then her mother sold out for 6 sacks of rice to support a whole family in per year. However, that income was still not enough to afford to buy school supplies for Sony's study and for their daily consumption in a whole year. After gathering rice was completely finished, Her mother haven't still stayed at home but her mother went to work as seasonal workers in order to get 7$ per day. For surplus work, Sony's mother had to raise a few hens due to get baby chickens for selling. For Sony in her free time, she likes to help her mother about the housework and likes to read the books and review the lessons from school.
For Sony's future goal, she wished to be a teacher of English because she so liked it and really wanted to teach this language to the kids for in the future and wanted to make them can relate with foreigners around the world. Moreover, she wanted to help her family to earn money and wanted to support her whole family in the future also.
Date posted: January, 2019