Heak Sreylis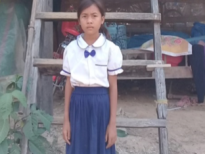 Heak Sreylis is an 11-year-old student in the 4th grade at Grace, Hope, Beloved School, which is located in Boeng Veng Village, Tangkrsamng commune, Beathy district, kampong Cham Province.
Sreylis's house is located nearby school and she goes to school on foot. Sreylis has two siblings and they all are girls and she is the second born in her family.  Her parents are farmers who own one hectare of farmland. Unfortunately, their farmland locates in the flooding area that they can grow rice only once a year in the rainy season. Sreylis said, the rice's yield that her parents produce is very low because they can only gather 500kg of rice per year.
Sreylis added that, for the 500kg of rice isn't enough for her whole family's consumptions in a year then to demand her family's needs, her parents work as seasonal worker such as her mother goes to the city to find a job to do and she gets $80 per month. Her father goes to find fishes at a lake which bases far from home about 1.7km.
Sreylis resumed that, even though her parents have been trying to find money from other ways but that revenue still couldn't patch up the family's needs well. Regarding her school uniform she got from the money of selling fishes. Sreylis confirmed that during her mother worked at the city she can look after the housework by making food and preparing food for her father and siblings.
For Sreylis's future goal, she wants to be a teacher of Khmer literature and moral civics and she also want to own a small business as like selling ingredients, salt, fish-paste etc. because she wants her family to get better standard of living condition.
Date posted: June 2018