Hem Pet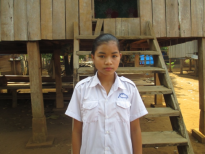 Hem Pet is 13 years old and she is studying in grade 6 at The Gloria and Henry Jarecki Special Skills School, which is located in Torng Norng Lek village, O'chum commune, O'chum district and Ratanakiri province.
Hem Pet is an ethnic minority who has been living with 6 members in her family. She has four sisters and she is the third kid in the family. Her youngest sister is also studying at The Gloria and Henry Jarecki Special Skills School.  Her older sister is attending in grade 8 at another Junior High School, which locates nearby her school.
Her parents are farmers who own one hectare of farmland for growing rice and they can produce rice about 700kg per year. All amount of that rice have been reserving for only daily eating within a whole year. Besides growing rice her parents sometimes go to work at neighbors' farms in order to get an additional 5 US dollars more per day for each one but the way that they have implemented still insufficiently support their living condition well.
Therefore, Hem Pet sometimes is absent from school for a few days to help her parents at the farmland. After school she always helps her mother to do housework.
In the future, Pet wants to be a teacher of Khmer literature because on behalf of the ethnic minority so she loves the Khmer literature and she would like to provide education to next generation as well as the ethnic minority.
Updated: June 2018