Hon Male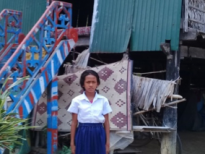 Hun Male is a 12-year-old student in 6th grade at Grace, Hope, Beloved School, which is located in Boeng Veng village, Tangkrasang commune, Batheay district, and Kampong Cham province.
Male has gotten four siblings, older brother and three sisters including her. She is the third child in the family. Her parents are farmers but they haven't owned any farmland to transplant rice. Every year, Male's parents hire farmland from their neighbors to produce rice and they collect 900 kilograms from harvesting rice. Male said a type of rice's seed that her parents have grown every year was Malis (jasmine).
Male commented that even if her parents gathered for 900 kilograms in per year but that output wasn't affordable to rescue the family well because they had to sell it all to merchants and got $202.50 (1kg = $0.225 x 900kg = $202.50) After that her parents organized that money from that amount to compensate to the landlord and the remaining money wasn't sufficient to organize the family's food and any supplies for his study.
To fix the family's problem, Male's older sister decided to drop out the school due to apply for a worker at a manufactory in Batheay district and she gets $170 of income in order to assist the family's needs. Anyhow, her older sister's salary still wasn't affordable to family's needs as well.
For Male's future goal, she wants to become a dentist because she loves the dental work very much. Anyway, she saw her father is mostly broken the teeth and he had no money to fix his teeth so he wanted to fix and take care of her father's teeth.
Date posted: June 2018