Jill Sihak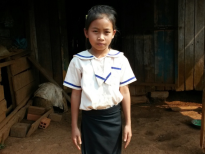 Jill Sihak is 9 years old, a student in 3rd grade at The Ascham School community, in Poutaing village, Romney commune, Senmonorom district, Mondulkiri province.
Jill Sihak  is the eldest child in the family, with three brothers and five sisters. Her parents are farmers. Her family owns 3 hectares of farmland for growing cashew trees and some vegetables. They are able to collect 300 kg of cashew nuts to sell for supporting the family daily life during a year. They do not have any other job to do out of working in their farmland, so their income are very tiny to support the family and very difficult to provide all the children to school.
Sihak is a very hard working student, and a good student. After a long day of studying at school, she goes home to help her parents with housework. In her free time, she likes to read books and review lessons from school.
In the future, she wants to become an English Teacher because she loves the English language and she wants to teach the students in her village the importance of the foreign language literacies because there are more tourists speak English. Additionally, she hopes to help her brother and her parents a better and more comfortable life.
Updated: June 2018