Ken Sreyno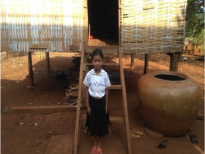 Ken Sreyno is 10 years old and she is in grade four. She studies at The Mr. and Mrs. Sak Nhep School and she lives in Chorng Ra Village Batang Commune, Lumphat District Ratanakiri Province.
Sreyno is the second child in her family and she has got one elder brother and one little brother. Her dad is farmer and he has got one and he owns his farmland is about one hectare. His farmland he plants cashew apple. Her dad can harvest about 700kg of cashew apple's grain per year and he can sell is about $350 in per year. He sometimes goes to find for an extra job in local area and he earns about $3.50 US Dollar per day and her mum is a housewife. She does her housework and she looks after her little son. Sreyno is a good student and she always goes to school by walking. She is good at on Math subject and after class she always help to explain the exercise to her classmate.
In the future, she wants to be a doctor because she wants to cure the people in her village, moreover she want to support her parents to live in a better life.
Date Posted: January 2020