Kha Sreynoch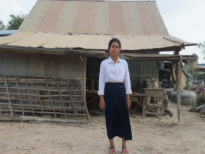 Kha Sreynoch was born on February 05, 2002 in Trakiet village, Cham Pei Commune, Baty District, Takeo province. She is in the 8th grade at Trakiet Secondary school (The Rita Hochhauser School).
Kha Sreynoch has one brother and she is the first child in her family. Her father's name: Mr. Chan Kha (passed away) and her mother's name is So Sarin, 49 years old, she is a farmer. Her family owns one hectare of farmland where they can earn up to $200 per year from rice products. Beside the work in the rice field, her mother is also working in a factory as a cleaner with her salary $150 a month. In total, the income they can generate are not even enough to support the daily life of the family during a year and support their children to school.
Kha Sreynoch wants to be a Khmer teacher, she hopes at least she can help teach those illiterate people in here village, so that they can read and write their own Khmer language.
Updated: May, 2018