Khem Chanthorn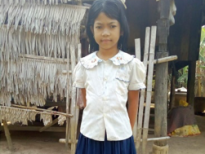 Khem Chanthorn is 10 years old, grade 3 at Vasakolan school, located in Angbaksey village Cheang Toung commune Tram Kak district, Takeo province.
She has 3 siblings one brother and 2 sisters. She is the second child in the family. She lives with 6 members in family, her parents, one brother, two sisters and grandmother. Her father's name: Han Thon, 43 years old, a construction worker, her mother's name: Lon Han, 44 years old, she is a farmer. They own a plot of land 26 Acres for rice product that they have about 10 baskets a year. Their income is around 90$ per month. Her parents said they really want her to a high education. After school, she always helps her parents do housework.
In the future, she wants to be a doctor because she wants to help the sick people who are in poverty that have not enough money to pay for treatment when they have serious diseases. If she becomes a doctor, she will improve healthcare sector. At least, she wants to help her family to be better.
Date posted: May, 2018