Khoeurn Somneang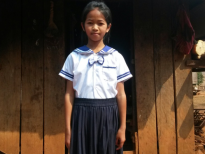 Khoeurn Somneang is 11 years old, a student in 4th grade at The Ascham School community, in Poutaing village, Romney commune, Senmonorom district, Mondulkiri province.
Somneang has three brothers and three sisters. She is the fifth child in the family. Her parents are farmers, owning one hectare of farmland where they are able to collect 500 kg of cashew per year, some bananas and vegetables. The incomes they earned just enough to provide the family daily food for a year. When the farming season is over, her parents go into the deep forest to find some honeys and wild vegetables to sell, if lucky they can earn about 20,000 riels a day. Somneang gets 500 riels a day for her study pocket money, and she walks to school every day. She is a hard working student, and always a good student in the class. After school, she is responsible on helping her mother with housework and looking after her younger sister.
In the future Somneang wants to be a businessperson to improve her life and family. Moreover, she wants to earn more income to support her family in better life.
Updated: June 2018