Khom Sonika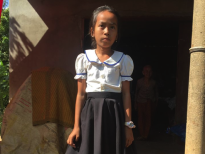 Sonika is ten years old student in 4 grade at Takasu Espoir School in Takhong village Trean commune Kampong Siem district Kampong Cham province.
Sonika has a brother. Her parents are divorced and she lives with her mother. Her mother is a farmer who own 0.2 Hectare of farmland for transplanting rice and her farmland depend on nature raining only. Her mother can gather 5 sacks of rice's production and quantity of one sack of rice is about 75 to 80 kilogram. After gathering rice is completely finished her mother has a small business at home. Her business is a tailor, she can earn 2 dollars to 3 dollars per one suit but it isn't forever. Sometime she has not income.
Sonika is a student who pays attention to learn, try hard to study and she gets good rank.
In Future, she wants to be a teacher because she loves teaching young children in her village and earn more money to support her family.
Date Posted: November 2018