Lai Vanny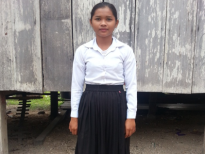 Lai Vanny is 14 years old and she is studying in grade 9th at The Naohiro Nishiya School, which is located in Opork Samky village, Meanrith commune, Sandan district, Kampong Thom province.
There are 5 members in her family, grandmother, parents, one brother and her. Her father's name is Mr. El Smann and her mother's name is Mrs. Hean Sak and they are farmers. They have own farmland, roughly 50 meters in width and 75 meters in length for growing the rice. Vanny's family can produce the 800kg of rice in per year and they are selling for 300kg, get 60$ and they keep 500kg for daily eating. This is not enough to support the family and the children's needs.  Vanny's father also works as a construction worker, in which he receives $5 in per day.  Even with the extra $5 a day, it stills not enough to support the daily family expense.  As a result, Vanny regularly misses school to do housework, because of living in the poor family she knows very clearly about her future cannot be expected for struggling and have a good job.
In the future goal, she wants to become a Junior Credit Officer because she wants to work in the bank because she thinks the bank can give her for many benefits and the salary is very comparative so she can save the money and support her family to live in a better life.
Updated: April, 2018