Ley Nheat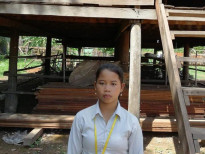 Nheat is 13-year-old and she is a student in Grade 7 at the Romdos Sre's School in Romdos Sre commune, Choam Ksan district, Preah Vihear province.
Nheat has three brothers and three sisters including her. She is a youngest child in the family. Nheat's father was passed away for two years ago since she was 12 years old. Her mother's name is Sam and she is a farmer.  Her family has own farmland in which they can produce approximately 900kg of rice per year and they had sold for 500kg rice, get 125$ for support their family foods and they are keeping 400kg of rice for daily eating in the whole year. Even they get income from growing rice but it still not enough to feed the family for a whole year, so her mother decided to go to work as a construction worker as well and she gets 5$ in a day.  When her mother is busy at work, Nheat commonly has to stay home to help in the field and with other housework.
In the future she wants to be a doctor because she want to help Cambodia peoples to recover from the decease and help support her family living.
Date posted: April 2018