Long Mealea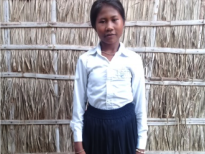 Mealea is 15 years old the student in 8th grade at The Nozomi School # 348 donated by David Sneider and Naomi Pollock Family. Located: Khchass Village, Khchass Commune, Saut Nikum District and Siem Reap Province.
She has no father because her parents broke up since she was young. Her mother name is Kreal Beak. She's 47 years old and she's a farmer. Mealea is the first child in the family has only her. Her family has no land so her mother doesn't grow the rice. Every day her mother works so hard at the at home like plant the vegetables around the house and sell at the market to get a little money. Sometime her mother asks her to stop from study and help her to earn money but Mealea loves to study so she comes to school every day without money. Mealea is a good student. After school, she goes home to help her mother with house work. In her free time, she likes to read the books and review the lessons from school and help mother to cook and take care of the plant.
Mealea wants to be a teacher when she grows up. She wants to help all the kids poor like her and love to study and the most she wants to earn money to support her mother to be better in the future.
Date posted: December, 2018