Meng Sindy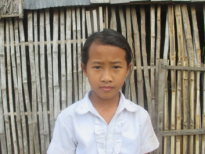 Meng Sindy is now a 10 years old student in 5th grade at The David and Deborah Roberts School, located in Ta Ream village, Tbeng commune, Kampong Svay district, and Kampong Thom province. She entered in the GBA program in 2017.
Meng Sindy has two siblings, one brother and her. She is the first child in the family. Her parents were divorced 4 years ago. Recently, her family are living with her aunt's house because they do not their own house to stay.
Before, her mother used to help her aunt with a small business by selling second hand clothes at home, but, currently, her mother is working as a waiter at a restaurant near the village. Her salary is about $100 a month; however, the income is not enough to solve the family's needs.
Sindy said that, she could not come to school regularly because she has to implement her chore works aunt's house. With the support from the GBA program, she now enjoys her school and studying. She attends her class regularly and always study hard.
Updated: May, 2018