Morn Srey Nich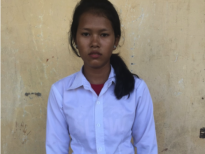 Morn Srey Nich is 14 year old, she study in grade 9 at koh Roka secondary school #383, which is located in Chrey Tmey village, Koh Rka commune, Peam Cher district, Prey Veng province.
Srey Nich was born in poor family in village and has 3 siblings, she youngest sister in the family,Srey Nich parents are farmer ,when the a harvest season is over, Srey Nich's parent go to work at phnom penh work as construction worker and mother cook rice for worker who work at ground construction to get more money for support family and study.
Srey nich get 1000 Riels a day for her studies, and rides her bike to school every day. Srey Nich is a smart worker, and is always a good student in school. Srey Nich's house is don't have cow for plowing rice field, when plowing her father borrow cow's neighbors. When free time from school, Srey Nich go to help pick peper of neighbors to get money for buy equipment for studying.
In the future, she wants to be a tour guide.
Date posted: December 2018