Nop Navid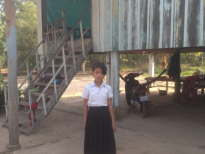 Nop Navid is the 11 year-old student in the 5th grade at the Kirivorn School#90, which is located in Kirivorn village, Steung Chhay commune, Kampong Sela district and Preah Sihanouk province.
Navid has been living with nine members in her family; who consist one father, one mother, four sons, and three daughters including Navid is the youngest daughter.
Navid's parents are farmers. They have owned three hectares of farmland which produces the rice yearly from one ton and half to two tons to support their whole family. Besides, doing rice farming, Navid's father was selected to be a guard of the antenna of Metphone Company and he earns $100 in a month. Navid said that, commonly, her father's salary was inadequate to support in entire family's needs because of a huge burden of children in the family.
Navid expressed that she wants to become a policewoman when she grows up, because she loves this occupation, and she wants to protect and safely serve securities to people in her country.
Date posted: April, 2018