Pall Srey Nich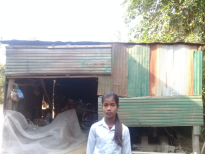 Pall Srey Nich is 13 years old and she is in the grade 7th at The Milton School, which is located in Tuol Prich village, Mean Commune, Prey Chhor District, Kam Pong Cham province.
There are 5 members in her family, grandparents, mother and 2sisers including her. She is a first child in the family and her youngest sister studies in grade 4 at the same her school. Her father name is Mr. Pen Vuth and he was died since she was 11years old, her mother name is Meas Rithy, She is a factory staff and she work near her village, get 180$ in per month. They don't have their own land and nowadays they are living with her grandfather. They not have enough for support their whole family. Sometime, Sreynich is doesn't have enough money for buying the school supplies but she still keep to study at school. Srey nich studies hard and she is a good student and gets a good score in class.
In the weekend she goes to work as a mango picker, get 5$ to help her mother support the family.
In the future, She wants to be an accountant because she loves the math subject and she wants to get a good salary to support her family to live in a better life.
Date posted: April, 2018