Phai Ka Yim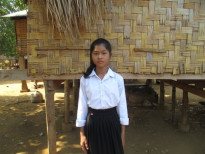 Ka Yim is 13 years old student who attends in 5th grade at Torn Lorng Le School in O' Chum district and Ratanakiri province.
Ka Yim is an ethnic minority student who has gotten only one younger sister and no any brothers in the family. She is the first child and her little sister is studying at the same school with her. Her parents are poor. They have a small rice field for one hectare to grow rice and can harvest between 500kg to 600kg in per year. Ka Yim affirmed that regarding her family is the ethnical race so her parents grow rice for only for daily consumptions and not for selling. Besides growing rice her parents sometimes go to work for neighbors' farms in order to get money between 3.75 USD to 5 USD in a day for each one. On the holiday she looks after her little sister at home and she teaches her little sister to read Khmer and English alphabets because of her parents are busy at the farms.
In the future, Ka Yim wants to be a Khmer teacher because she wants to provide education to the next generation. She wants the people in her village have high education. Also, being as the Khmer teacher can change her life to be a bright future.
Date posted: November 2018