Pheap Reaksa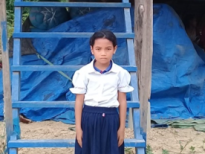 Reaksa is 11-year-old student in 4th grade in Grace, Hope, Beloved school which is located in Boeng Veng village, Tangkrsamng commune, Batheay district and Kampong Cham province.
Reaksa is the youngest child in the family and she has gotten six siblings such as three sons and three daughters including her in the family. She and her siblings were orphans since her father was passed away for eight years. Presently, she and her siblings have been living with her mother. Her oldest brother got married and he went to live with his wife's parents. Her two older sisters have been working at a garment factory in Beatheay district and their salary is $170 each. And her two older brothers have been working at Phnom Penh city to get $130 of salary each month. Although, they have received more than one hundred dollars each per month but they couldn't send much money to her mother to work out all of the family's needs because they have paid for their house rental's fee, daily food, electricity and water supply, etc.
As for her mother's role is a housewife and a farmer who owns one hectare of farmland so her mother could grow rice only once a year in rainy season. The yield of rice that she gathered from the rice harvesting was very low about 1000 kg in a year. Hence, for 1,000 kg of rice was just only sold for little income in order to buy food, some cloths, Reaksa's school uniform and medicines when they got ailment.
Reaksa said that in her future's goal, she wants to be a doctor at Batheay district's hospital because she wants to treat the poor patients who are living in her region, particularly; she wants to take care of her mother when she gets sick.
Date posted: June 2018