Rondos Uy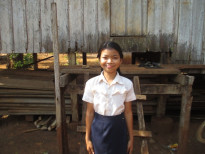 Rondos Uy is a 12-year-old student who is attending in 4th grade at Torn Lorng Le School in O' Chum district of Ratanakiri province.
Rondos Uy is an ethnic minority student who has two brothers and two sisters. She is the second kid in the family. Her parents are farmers and they have half hectare of rice field for sowing rice. Every year, her parents harvest about 400kilograms in per year and the amount of that rice is not sufficient to feed her family for a whole year so that her parents must work as a grass cleaner, a cashew nut picker and a potatoes digger in order to earn about 5 US dollars for each one in a day, she said.
In the future, Rondos Uy wants to be a policewoman because she loves this job so much and wants to defend her village as well as her country to be safe.
Date posted: November 2018