Ruon Lann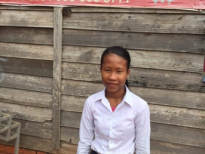 Ruon Lann is 15 years old, and she is studying in grade 9th at The ASIJ School in Chup Krom village, Svay Leu commune, Svay Leu district, Siem Reap province.
Ruon Lann has gotten only two siblings including her, she is the first child in the poor family. Her mother name is Pam Chan and she is 33 years old and her father name is Seam Roeun and he is 36 years old. They are farmers and they have owned farmland for one hectare for growing rice. The rice can produce 15 bags of rice in per year and they are selling for 10 bags and got $282 to pay back to shop owner for the fertilizers. After finish from growing rice her father to work as a construction worker and get 5$ in per day but it still not enough for daily expense.
Sometime, Lann doesn't have enough money to buy her school supplies but she still go to school everyday after school she like to read the book and help her mother to do house work.
For her future goal, she wishes to be a nurse because she enjoyed this career and she could help her ethnic minority communities in the area.
Updated: April, 2018