Sam Kanha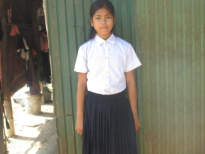 Kanha is 13 years old and she is a student in grade 7 at The Green Family School in Takeo province, Kirivung district, Angbrasat commune, Angbrasat village.
There are seven members in her family. She has got two parents, three brothers and two sisters includable her. She is second child in her family. Her family is poor and does not have farmland and nowadays her mother has been working in Thailand who she can earn revenue 25,000 Riels per day. Her father don't have any work, he is staying at home. Now Kanha is living with her father. Her mother always entrust a little money to support school supplies during Kanha is studying. Kanha always ride an old bicycle to school and comes back. Furthermore, Kanha always does housework and takes care the younger brothers and oldest sister every day after school and day off.
Kanha wanna to be a teacher when she grows up. She loves a position very much. Furthermore, she would prefers to teach all the students in the rural villages to have higher knowledge to become center-row of the nation and also progress the nation towards perfect human resource. Anymore, she would likes to help supporting her family in the future when she is going to succeed in her aspiration.
Updated: June 2018