San Saovna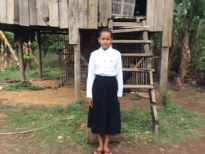 San Saovna is a 14 years-old , student in 9th grade at The Naohiro Nishiya School in Opork Samky Village, Meanrith Commune, Sandann District, Kampong Thom Province.
There are 6 members in her family.  Saovna has two brothers and two sisters including her. She is a third child in the family and her parents are farmers. They have their own farmland for transplanting rice, which can produce 600 kg of rice in a year. There are not enough to daily expense. Besides working in the field her mother works as a day laborer. In that situation sometimes, Saovna is also hired to harvest rice and clean grasses with these extra jobs and she can earn $4 per day but it is not regular income. They are so poor. Saovna doesn't go to school regularly because sometimes, She helps her parents on the rice field during harvest season.
In the future San Saovan wants to be a nurse and she hopes her dream come true and she wants to help her parents and her brother to live in a better life. Anyway she wants to be a nurse because she can helps all the people in her village, especially younger children and older peoples.
Updated: April, 2018