Savry Lihoy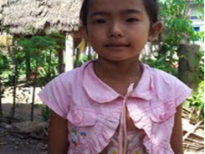 Lihoy is 7 years old in Grade 2 at The Lotus School in Prek Dambouk Village, Kampong Chamlorng Commune, Khsach Kandal District, Kandal Province.
Lihoy is from a family of six members; she has three siblings, one sister and two brothers. Her parents are poor farmer, the yearly harvest is hardly enough to feed their family. Both her mother and father have lost their eyesight that causes the family even more difficult and could not do other job to make a better living.
Lihoy has to take care by herself at home and to school because her parents do not have time for her and always away to work on the rice field to make their ends meet.
Lihoy's parents are happy to send Lihoy to school with the support from the GBA program.
Date Posted: December 2013