Seng Sreykeang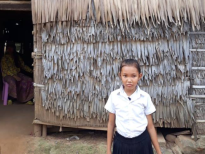 Seng Sreykeang is a 10 years old and she is a student in 2nd Grade at the Sunnyside School, located at Prasat village, Prasat commune, Prey Chhor district, Kampong Cham province.
Sreykeang is a crippled girl (lack of her fingers, lack of toes) and she has six siblings and he has four brothers and two sisters including her. She is the sixth child in the family. Her father's name is Sam Seng and he's 51 years old and He is a fisherman. He could earn around $80 – $100 per month to support his famiy. Her mother's name is Vorn Nake and she is 48 years old. Her parents were divorced for many years and her mother leave them for a few years a go. Her parents don't have their own farmland. Her father's monthly income could not support the whole family. Nowadays they are living in a poor family and she lives with her father and her siblings.
After school she always help her father to do house work and look after her sibling.
Her father commits to give Sreykeang enough time to study at school and at home and hopes she could finish high school and get a good job. He will do everything for her to finish her study. He also thanks to the WAFC/JRFC and the donors who help to support his daughter's study.
Sreykeang always tries to study hard even at school and at home with her siblings. She will try her best for success and commits to finish high school and get her dream coming true to be a teacher in the future so that she could support her siblings' studies and support for daily expense of her family.
Date posted: July 2018